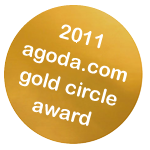 Agoda.Com, a leading hotel booking site and part of Nasdaq-listed Priceline Group (Nasdaq: PCLN), today announced the winning hotels of the Agoda.Com Gold Circle Awards 2011.
Each year, agoda.com recognizes outstanding hotel partners by presenting them with a Gold Circle Award. The awards, launched in 2009, are unique to agoda.com and are intended to honor hotels that show commitment to providing a superior online product.
Winning hotels must meet certain criteria to qualify for an award. First of all, they must have worked closely with agoda.com to offer consistently competitive room rates. They also must have utilized agoda.com's custom-built YCS 3.0 yield control system to maximize revenue. Finally, they must have earned positive reviews and comments from agoda.com customers.
This year, a total of 381 hotels worldwide will receive a Gold Circle Award. The awards themselves sport a sleek new design and will be presented to the winning properties by a local representative of the agoda.com Hotels Team. For some properties, such as the Borei Angkor Resort & Spa, the Kyoto Royal Hotel & Spa and Lebua at State Tower Hotel in Bangkok, this is a second win.
Mr. Errol Cooke, Director of Hotels – Global at agoda.com, said: "With the Gold Circle Awards in their third year, hotel partners are increasingly recognizing them as a mark of excellence in online distribution. This year, we are delighted to award hotels across the globe for their commitment to online revenue management and how well they are making use of all the customizable merchandising and promotional tools available via agoda.com."
Travelers who stay at a Gold Circle Award-winning property are assured excellent service and great value at a fair price. For more information about the Gold Circle Awards or agoda.com, please contact PR@agoda.com.